Improve Evacuation Times, Throughput, & Quality. Reduce Maintenance.
The CoreMax System eliminates process tubes and Schrader® valves for dramatically faster evacuation times, improved quality, i.e less leaks, improved TAKT Time, and lower maintenance costs.
CoreMax Access Valve & Tools
The Industry Standard for Efficient Processing and Leak Testing of Packaged HVAC Refrigerant Systems.
The CoreMax Access Valve & Seat System provides up to five times greater processing flow than common Schrader® valves and has dramatically improved sealing performance. Plus, it provides easy and reliable system accessibility compared to stub tubes and leak prone "Saddle Valves".
CoreMax Tools are designed to work seamlessly with the CoreMax Access Valve in all processing stages (Leak/Proof Test, Evacuation, Charging, Run Test, Final Fill & Reclaim/Rework). Together they form a flexible system that shortens processing times, while improving the quality of refrigeration products.
Unlike other systems, this is an integrated system design that has been specifically designed to OPTIMIZE OEM PROCESSING, ELIMINATE ACCESS PORT LEAKS and MAKE FIELD SERVICING EASY! ​​​​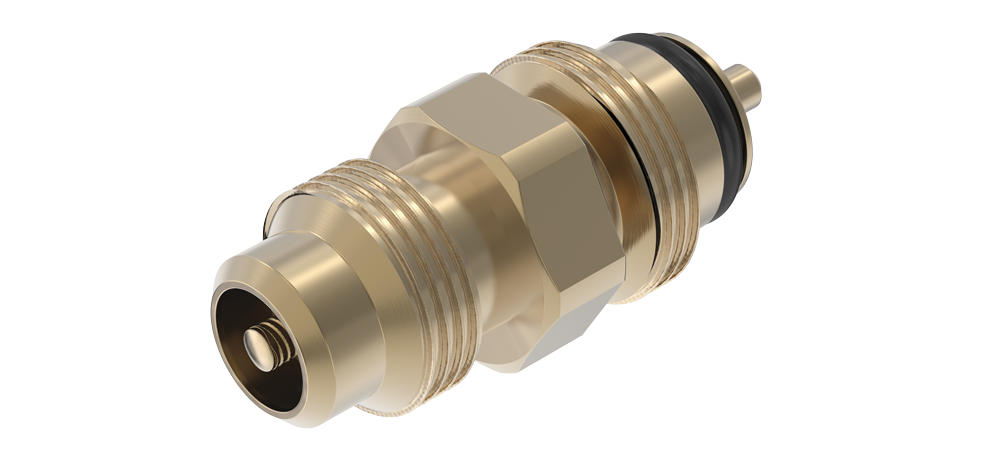 CoreMax Access Valve
Manufacturing Processing Tools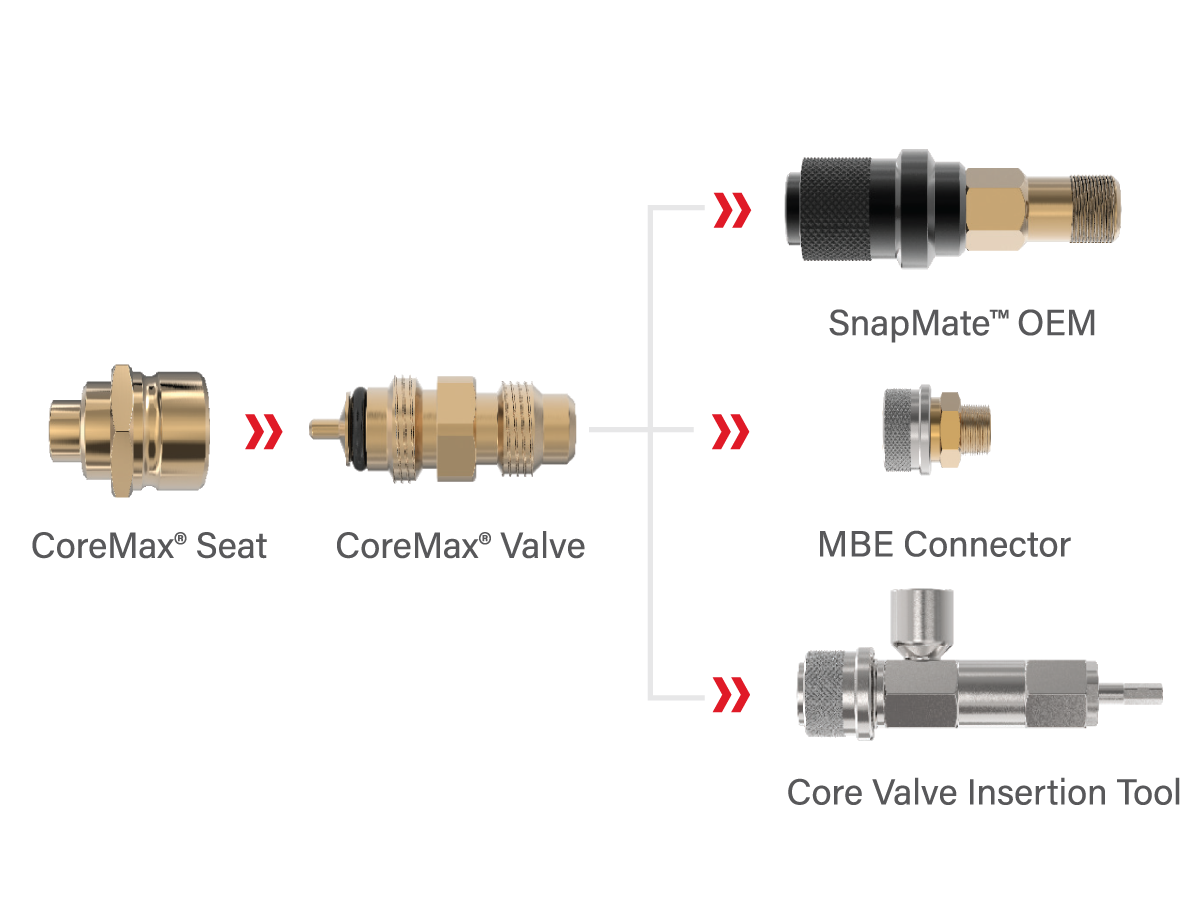 Field/Manufacturing Service Tools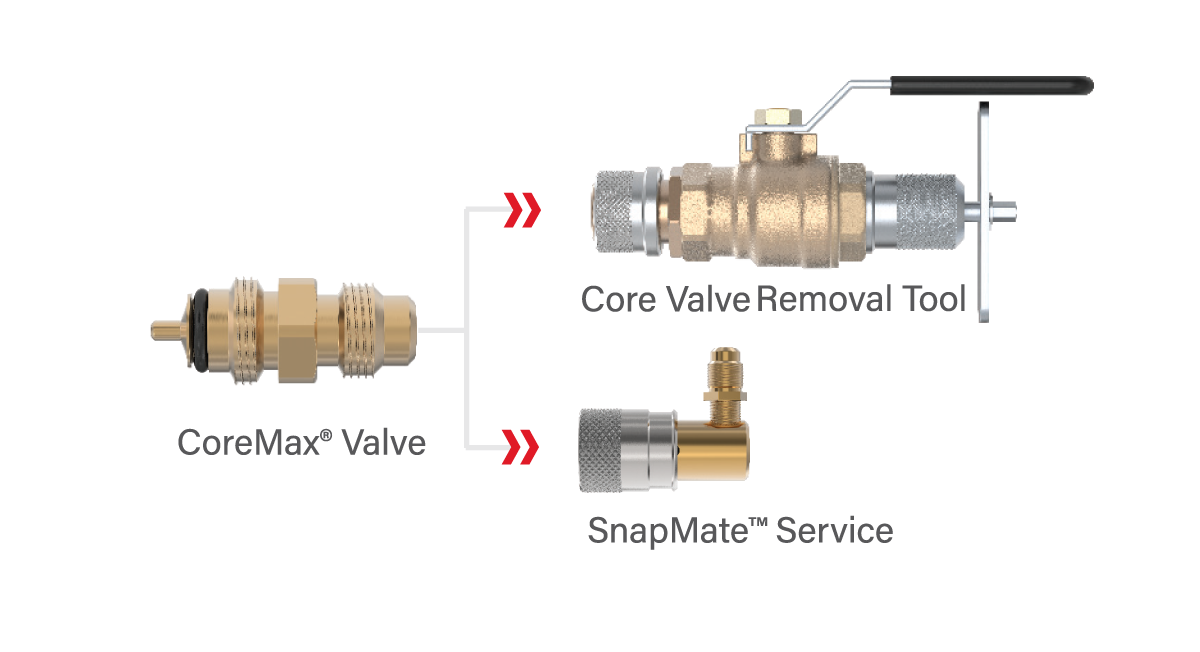 Why CoreMax
Increased flow up to 5x

Reliable sealing built for refrigeration

Manufacturing tooling for an overall system

Mates with common ¼" flare (SAE J513) Shrader® style service tools
Industry standard for packaged systems
Over 20 million units installed in 8 countries and 3 continents
Reliable and Robust
<.3% field replacement rate with near zero RMA claims
Refrigerant Compatible
R-22, R404, R410A, R-407C, R-134A, and Next Gen
Increased value with overall cost savings
Safe and ergonomic connections - Zero safety claims.

Increased throughput - 30% reduction in processing time of 30 ton units.

Reduced warranty costs - 99% drop in rework and warranty claims.

Reduced repair costs - 80% decrease in tooling investment and 50% decrease in maintenance costs.
CoreMax:
High Conductance design results in dramatically shorter evacuation time
Processing tools are easy to use and rugged
Used industry wide and can significantly reduce plant tooling costs
Ergonomic tool design reduces fatigue and workplace repeated motion injuries
Robust sealing design virtually eliminates sealing problems, reduce rework from leaking Schrader valves by up to 99%
The ¼" 45º Flare termination (7/16-20 thread) easily mates with common line sets and service tools, making it field service friendly.
Applications:
Unitary Packages Heat Pump

Split Air Handler/Condensing Units

Low Temp Cooling Systems

Roof Top Units

Pool Heat Pumps
Common Industry Thread
1/4 Flare with a 7/16-20 is the same thread, taper, and sealing surface as commonly used valves.
Leak-Tight
Metal-to-Metal joint between Access Valve and Seat provides a hermetic seal.
Hex Design
An external hex on both the Valve and the Seat allows for counter-torque action, preventing assembly forces stressing the brazed joint (CoreMax Torque Guns automatically incorporate this action).
No Movement Under Pressure
Assembly encapsulates the O-Ring ensuring that it stays in place under pressure.
Multiple Seat Options
Seats are available in Saddle Mount, Stub Tube, Panel Mount and NPT tread configurations all of which mate with the Access Valve.
CoreMax® Access Valve and Tools